The society which is based in Wellington, New Zealand is associated with The National Library of New Zealand . It was formed in 1983 to support the work of the Dorothy Neal White Collection.
In 2005 it was extended to support the National Children's and Susan Price Collections.
How to view the collections supported by Friends of DNW
Through its lectures, meetings, research grant and publications the Society helps to foster interest in the general development of children's literature.
Membership is by annual subscription, the details are on the membership page.
Address: Friends of the Dorothy Neal White Collection
P. 0. Box 1467
WELLINGTON
AGM Thursday 9 June 2022
The Friends of the Dorothy Neal White Collection invite you to the
2022 AGM
Thursday 9 June 2022
Before the meeting Mary Skarott, Research Librarian Children's Literature, will show a sample of books added to the National Children's Collection during the past year, focusing mainly on books in translation ..flyer..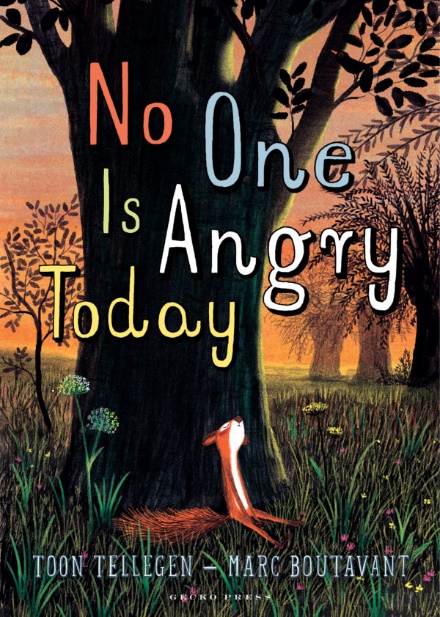 No one is angry today / by Toon Tellegen; illustrated by Marc Boutavant; translated by David Colmer. Wellington: Gecko Press, 2021

4.30pm for show and tell
(Come to the Lilburn Room, Level 1 reading room, National Library of New Zealand)
5.00pm drinks and nibbles, followed by AGM
(Ground Floor, National Library of New Zealand)
Use the Molesworth Street entrance
Please note that you must wear a mask while you are at the Library
Gold coin donation from non-members appreciated, new members welcomed
We look forward to seeing you there
R.S.V.P. to mary.skarott@dia.govt.nz
Research Grant
A research grant is offered biennially to applicants who intend to undertake research that will make use of the Dorothy Neal White Collection and / or the National Children's Collection, and fits other applicant criteria listed on the website.
CONTACTS
Your comments or questions about the Society, the Collection, and this website are welcome
Enquiries about membership of the Friends may be directed to the Secretary, Friends of the Dorothy Neal White Collection
P0 Box 1467, Thorndon, Wellington 6140.
Membership form
For research enquiries relating to the collection use the webform
http://www.natlib.govt.nz/services/ask-a-librarian
Telephone: 64-4-4704488.
Facsimile: 64-4-474 3035
CHARITABLE STATUS:
New Zealand law allows non-profit organisations to apply for charitable status. This gives advantages over exemptions from some tax returns and allows members to claim tax exempt status for donations.
Our registration number is CC51738

See us on the Charities Register