The society which is based in Wellington, New Zealand is associated with The National Library of New Zealand . It was formed in 1983 to support the work of the Dorothy Neal White Collection.
In 2005 it was extended to support the National Children's and Susan Price Collections.
How to view the collections supported by Friends of DNW
Through its lectures, meetings, research grant and publications the Society helps to foster interest in the general development of children's literature.
Membership is by annual subscription, the details are on the membership page.
Address: Friends of the Dorothy Neal White Collection
P. 0. Box 12 499
WELLINGTON
TEMPORARY CLOSURE OF NATIONAL LIBRARY BUILDINGS TO THE PUBLIC
The National Library of New Zealand Te Puna Mātauranga o Aotearoa has temporarily closed its buildings to the public from 1pm Saturday 21 March. This is to help efforts to reduce the risk of COVID-19.
We are looking to deliver some of our services that would have been delivered in person to schools and researchers in other ways, including online.
Our interloan services and lending services to schools are still available.
This is a temporary measure for fourteen days and applies to all National Library sites across Aotearoa.
Our staff are still working and you can use our online services. Please continue to send us queries through Ask a Librarian. More details of our continuing services will be added on our website.
We continue to monitor the situation and follow the Ministry of Health guidelines.
Kia ora, kia kaha, stay well Aotearoa and let's look after each other.
Storylines Notable Books ..here..
Storylines has made the decision to indefinitely postpone the 2020 Storylines Margaret Mahy National Awards Day scheduled for 5 April. The awards will still be announced. The AGM will be an online meeting.
2019 NZ Children's and Young Adult Book Awards winners announced
The full list of winners is:

Margaret Mahy Book of the Year Award
The Bomb, Sacha Cotter, illustrated by Josh Morgan (Huia Publishers)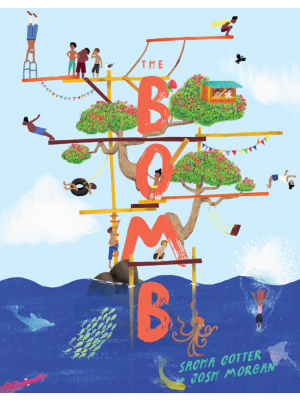 Picture Book Award
The Bomb
Wright Family Foundation Esther Glen Award for Junior Fiction
The Dog Runner, Bren MacDibble (Allen & Unwin)
Young Adult Fiction Award
Legacy, Whiti Hereaka (Huia Publishers)
Elsie Locke Award for Non-Fiction
Art-tastic, Sarah Pepperle (Christchurch Art Gallery Te Puna o Waiwhetū)
Russell Clark Award for Illustration
Puffin the Architect, written and illustrated by Kimberly Andrews (Penguin Random House)
Wright Family Foundation Te Kura Pounamu Award for te reo Māori
Te Haka a Tānerore, Reina Kahukiwa, illustrated by Robyn Kahukiwa, translated by Kiwa Hammond (Mauri Tū)
Best First Book Award
Art-tastic, Sarah Pepperle (Christchurch Art Gallery Te Puna o Waiwhetū)
Research Grant
A research grant is offered biennially to applicants who intend to undertake research that will make use of the Dorothy Neal White Collection and / or the National Children's Collection, and fits other applicant criteria listed on the website.
Next Event
The new membership year and AGM is approaching.
CONTACTS
Your comments or questions about the Society, the Collection, and this website are welcome
Enquiries about membership of the Friends may be directed to the Secretary, Friends of the Dorothy Neal White Collection
P0 Box 12-499, Thorndon, Wellington 6144.
Membership form
For research enquiries relating to the collection use the webform
http://www.natlib.govt.nz/services/ask-a-librarian
Telephone: 64-4-4704488.
Facsimile: 64-4-474 3035
CHARITABLE STATUS:
New Zealand law allows non-profit organisations to apply for charitable status. This gives advantages over exemptions from some tax returns and allows members to claim tax exempt status for donations.
Our registration number is CC51738

See us on the Charities Register